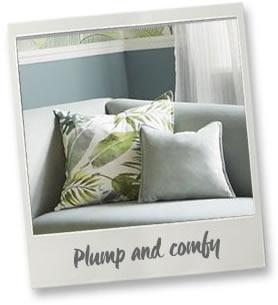 Your cushions work hard to give you and your family a comfortable place to relax together, so they can start to look a little tired without the proper care and attention. If you stick to a simple daily routine to show them some appreciation, they'll be softer for longer. To make sure you adopt the right routine, first check whether you have fibre or foam-filled cushions.

Fibre-filled cushions
Plumping up fibre-filled cushions every day will help them to keep their original shape and prevent them from becoming deflated as their fibres mesh together – and it takes no time at all.
To do this effectively, hit them on all sides and drop them onto a clean floor to get some air back into them.
Also remember to swap your fibre-filled cushions around. This means that none of them see more action than the others and they all stay as comfy as possible.

Stain prevention
Stains should always be tackled right away – first by soaking up any excess liquid with a clean, dry cloth, and then by spot-cleaning the area. Make sure you have the right cleaning products for your fabric and keep them within reach in case you need them in an emergency. If you use the wrong supplies for your sofa, you could risk damaging the material and voiding your insurance policy. Check the tag or label to see what we recommend.
Location location location
Gradual daily damage to cushions can be avoided by keeping them away from food preparation areas, direct sunlight and the elements. So check that your sofa is out of reach of potential hazards to keep it looking its best.