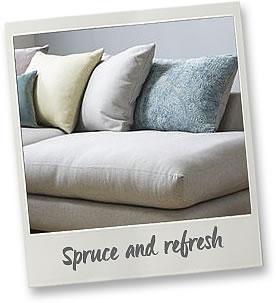 Your sofa is the heart of your living room, so don't neglect it on cleaning day. A weekly cushion spruce-up an refresh your whole room with barely any effort. Just follow our top tips to keep your sofa looking as good as new.
Wipe clean
First, wipe your cushions down every week with a clean cloth; it can either be damp or dry depending on the type of fabric. This will remove any general dust and dirt that has built up and stop any gradual staining in its tracks.
Hoovering
One of the most effective ways to keep your cushions looking smart is to hoover them all over once a week. We recommend using a low setting and a soft brush attachment to avoid damaging the fabric.
Brushing
Brushing your sofa cushions might feel a little odd at first, but it's the perfect way to keep the fabric intact and the colours bright. Cushion covers can look dull and worn over time if the fabric is constantly flattened, so give them some TLC with a soft brush to fluff the fibres back up.
Banish the bobble
Nothing ages your cushions as much as bobbling or pilling, so a weekly bobble-removing session can be an instant facelift for your sofa. A fabric shaver, which is designed for use on clothing, is ideal for use on cushion covers as it will remove bobbles gently while preserving the material.
Don't forget to turn foam-filled cushions
Foam-filled cushions tend to be firmer, so they naturally keep their shape for longer than fibre-filled ones. It's still important to turn them regularly so they stay nice and even – then no one will be fighting over the comfiest part of the sofa! For the best results, take them out of their covers and rotate them.