Fabric care at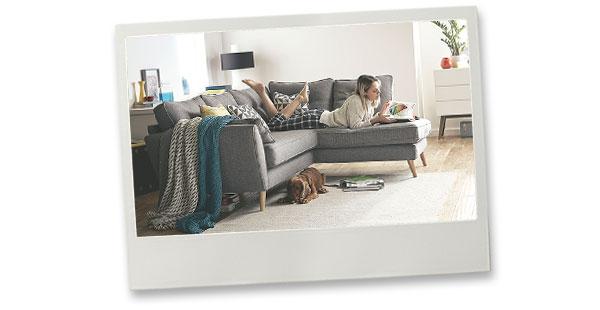 Fabric sofas are perfect for snuggling down on with your whole family – pets and snacks included. We've put together some tips to help you take care of the heart of your home.

Take all the cushions off and give your sofa a quick hoover once a week to remove any collected crumbs. Run the vacuum over all the cushions to lift off any surface dirt and dust using an attachment with a soft brush to avoid damaging the fabric and set your hoover on a low suction setting.
Watch those new black jeans on your light-coloured sofa. There's a chance that the dye might transfer onto the upholstery.
Stay away from the washing machine. Our fabrics aren't designed to be washed and giving covers a spin at even a low temperature could affect how fire retardant they are, as well as cause the colours to seep and the fabric to shrink.

Our Fabricare kit
Get rid of marks and spills quickly and easily with our Fabricare kit. It comes with two stain removers in different strengths, as well as a general cleaner, a soft cloth, a sponge and a full set of instructions.
Call 08081209679 to find out more.