Bedroom & Dining care at
You can sit back and relax on your new dining and bedroom furniture with our
protection plan.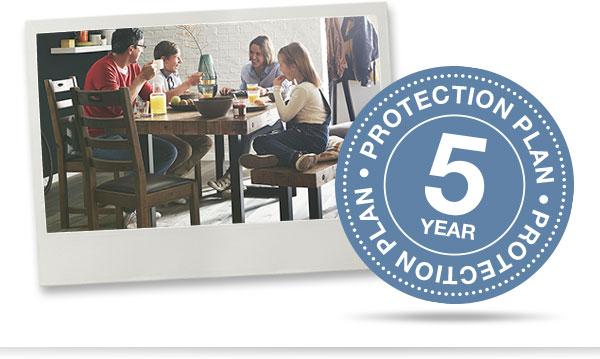 It's good to know that the everyday accidents in a busy home won't cost you. This policy is valid for 5 years from the date your new bed or table is delivered.
What's covered?
Guardsman covers accidental damage to products that have been delivered in perfect condition. Stains from spilt food and drink, pet mess (the first time only) and other mishaps that result in scuffs, rips and burns are all protected against.
The important thing to note is that the cause of the damage must be clearly related to one incident for your claim to be valid.
What's not?
This plan doesn't cover general wear and tear, including stains that have built up over time and fillings that sag due to age. Have a look at our helpful hints and tips for looking after your furniture to keep everything in good shape from the off.
Issues with your furniture's surface – like faded colours, cracking, splitting and unusual smells – that show a lack of general upkeep might harm your claim's chances of being successful.
The policy also only applies to your home; furniture in a place of business (even if you're renting out a room in your house) won't be repaired or replaced.
How do I claim?
You have 28 days from the time of the accident to let us know – but it's best to do it as soon as possible. Any claims made outside of this timeframe might not be considered valid.
You can either download a form from the Guardsman website or call up on 0845 600 5886 or 01235 448 838 to be sent a form. Guardsman might send someone out to you to assess the damage to your furniture and make a call on what to do next.
How will I be compensated?
Wherever possible, Guardsman will try to fix the problem, either by sending a specialised stain remover or by arranging to clean or repair your furniture.
If the item needs to be entirely replaced, Guardsman will try its hardest to match your product in wood grain, pattern and colour – however, we can't guarantee an exact match.
To find out more about what you can claim for, click through to our full terms and conditions.